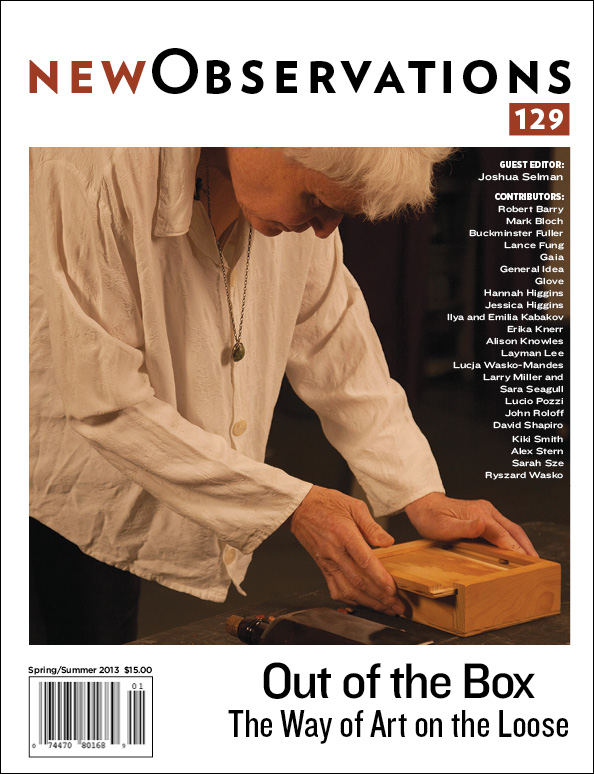 Check out New Observations 129th issue
OUT OF THE BOX: The Way Of Art On The Loose
Guest Edited by Joshua Selman

With special contributions by Robert Barry, Mark Bloch, Buckminster Fuller, Lance Fung, General Idea, GLOVE, Ilya and Emilia Kabakov, Erika Knerr, Alison Knowles, Layman Lee, Larry Miller and Sara Seagull, Hannah Higgins, Jessica Higgins, Gaia, Lucio Pozzi, John Roloff, David Shapiro, Kiki Smith, Alex Stern, Sarah Sze, Lucja Wasko-Mandes, Ryszard Wasko
The first issue in the new series is a remarkable volume put together by Joshua Selman.  The offset printing of our 129th Issue,  "OUT OF THE BOX- The Way of Art on the Loose," reintroduces the magazine exploring alternative ways that artists have interacted with art making and their communities, bringing together seminal artists from Fluxus, Street Art, Correspondence Art, Contemporary Intermedia, Experimental Utopias and beyond. We are presenting artists who have reacted to social conditions that lack flexibility, by distributing work either for free, or outside of rational transaction, loosening the exchange structures in their communities, through various offerings. We have inside coverage of Lance Fung's Artlantic Wonder, the five year Art Park being created in Atlantic City and how the first phase, with installations by Robert Barry, Ilya and Emilia Kabakov, John Roloff and Kiki Smith survived hurricane Sandy to open to the community, in just a month of its aftermath.  Alison Knowles created a piece for the issue titled "Out of the Box," that was then performed on SWITCH TV in Holyoke, MA documented for the magazine. Hannah Higgins has contributed a meditation on Buckminster Fuller.  We have a feature section from very rare documentation from the Larry Miller/Sara Seagull Archive that is guest designed by Sara Seagull.
Joshua Selman is an international artist and organizer practicing public space intervention, large scale installation, cultural-strategy, critical journalism and applied new media. He has made major works in sound, performance and objects. He is a noted Intermedia artist who worked extensively with Fluxus Founders Alison Knowles and Dick Higgins and debuted at Emily Harvey Gallery. Selman served as Executive Director of The International Artists Museum's, New York Center. He founded the strategic non-profit Artist Organized Art which is also the parent organization of New Observations Magazine. A Yale graduate, based in New York City, under varied identities has many followers in The Americas, Europe, Asia and beyond.
Issue #129 Cover: Alison Knowles, Performing "Out of the Box", SWITCH TV, Holyoke, MA. April 25, 2012. Photo: by Mary Averill.

You will get an impressive volume containing new contributions by some of the most important thinkers and artists of our times, including a challenging group of emergent philosophers and artists opening new horizons for our experience in the very problematic and uncertain time we now live.
We presented Issue 129: "Out Of The Box: The Way Of Art On The Loose" at the New York Art Book Fair 2013, at the MoMA / PS1. September 19-22, 2013.