There is a large selection of Back Issues available at Printed Matter Bookstore in New York. They can also be ordered here from the Printed Matter web store. Click to find out availability.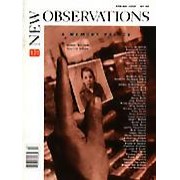 121. A Memory Palace
Charlie Citron
Spring 1999
Caro Bensca, Anna Best, Stefan Bohnenberger, Denise Carvalho, Sylvia de Swaan, Daniel Dewaele, Jarg Geismar, Bernhard Geyer, Susanne Greven, Peter Haffenden, Jennie C. Jones, David Mills, Ann Rosen, Keiko Sei, Sandi Slone, artists statements by Leo, Douglas Allsop, and Siobhan Davies collected by David Lillington, and others.
Printed Matter